Hello The Internet,
Well… it's here. We made it. I don't know what else to say right now, except that it is with great excitement that I present Film Army's last post of 2013 and the final installment of our webseries/feature film experiment, A Full Rotation.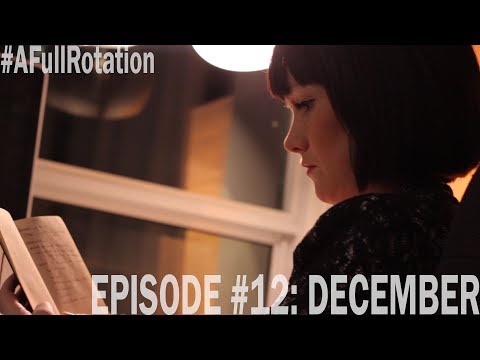 In January, we had an idea to produce a feature length film by shooting 10 minute episodes every month to tell a story in real time. It seemed like a crazy idea, a logistical nightmare and almost impossible to keep up with. And yet, 12 months later, we've finished. It's been such a crazy year that has just flown by. It's still a bit surreal to think it's all over and done with and that there's no episode I need to prep for next month. There's no production schedule I need to figure out anymore. It's just… done. We're wrapped and every episode is available for the world to see. I can say that A Full Rotation has been the most ambitious and rewarding project of my career to date in scope and duration.
And none of it would have been possible without the support and encouragement of our viewers, our friends and our colleagues in the art community. We've met so many new, wonderful people over the course of the year as we produced each episode and I proudly call them all friends. I eagerly await a chance to work with them again.
If this project has taught me anything, it's that there is no place for excuses anymore. If you want to make something, you find a way to make it. You may need to make some compromises but if you're not willing to do that then come up with another idea in the meantime. Create constantly. Even when, in all honesty, it's a crazy idea. The crazy ideas are usually the ones that create the best stories.
A huge shout out to The Brunswick Project for lending their music to our finale. They embarked on a similar mission recently by producing one song every week for an entire year. It only made sense to join forces and end off with the brilliant music of this local duo.
But our work isn't finished. In 2014 we will be taking our episodes and combining them to form the feature length movie they were destined to become. There is some polish to be put on in the way of colour correction and ADR, but when it's finished, we'll have a film ready to go! And you watched it come together right here at Film Army. It's been an absolute blast to document our journey every month and it's even kept me sane… I think. Being able to rationalize what we worked with and what we learned every month made it so much easier to process the overwhelming amount of work and stress that went into this project.
From the bottom of our hearts, we thank you for watching and supporting this crazy little project from beginning to end. With 2013 behind us, we look toward 2014 and set our sights and our dreams even higher. And when we look back at what we've accomplished this year, that'll make for a big year ahead of us.
Have a fun and happy New Year, The Internet. We'll see you in 2014. In the meantime, please be safe and be kind!