Well, I suppose this was bound to happen. The first two nights of the Toronto After Dark Film Festival offered two radically different films and both were excellent in their own ways. We Are What We Are was a haunting approach to a family of ritual stricken cannibals, and Big Ass Spider! proved that you don't have to rely on cheap jokes to light up great entertainment. So with how these superb hands were being dealt, it was inevitable that not every film was going to be a home run like these two were.
Programmer-at-large Shelagh M. Rowan-Legg walked onto the stage and talked to the audience for a bit before the screening commenced. After a nice plug for November's The Blood in the Snow Film Festival, Rowan-Legg talked about how there are not that many female voices in horror. Last year's American Mary, directed by the Soska sisters, was the first time in a while where women took the bloody reigns and offered something truly twisted and original.
Tricia Lee, director of Silent Retreat, was invited on stage to join the brief discussion and soon enough Lee happily introduced her film.
Before the Canadian short film that ran in front of Silent Retreat, the audience watched a fleeting tongue-in-cheek short from director Darren Lynn Bousman (Saw II and Repo: The Genetic Opera). The funniest part, Bousman's reasoning for watching his poorly reviewed flick 11-11-11: "Well, somebody's got to," he tells his wife.
Then, The Guest started…
The Guest (DIR. Jovanka Vuckovic)
The Guest is "in and out" at four minutes, but that also means Vuckovic doesn't allow her short film to resonate.
The film's main point is tough to make out and Vuckovic seems to be trying to distract moviegoers by flashing blink-or-you'll-miss-them images of some truly freaky things. Her tactic almost works.
I've been waiting for a film to try to scare audiences like this. That ability to make moviegoers second guess what they just saw is the recipe for a scary piece of work. Although we understand who is featured in these snippets, the meaning behind these are just as questionable as The Guest's set-up.
Those appreciated scares seem to be focusing a lot of attention on how eye-grabbing the contrast between red and white is. It's certainly an appearance that "pops" and almost feels like a nod towards Robin Williams' illusions in 2002's creeper One Hour Photo. But wouldn't it have been a bit more arresting if these unsettling people were slowly doing something while placed on the white background? Maybe opening up their mouth as they shuffle towards the camera.
As soon as you can think of quibbles, The Guest is over. It may have troubles staying fresh in our heads, but that quick runtime has this short getting away with murder.
Silent Retreat (DIR. Tricia Lee)
I don't like when movies – especially horror – tell me blatantly what I should be feeling. In the case of Lee's Silent Retreat, there's no escaping that loud and overactive musical score.
When something strange is afoot or the retreat's frightening doctor (played by none other than creepmaster Robert Nolan) is overseeing every detail about his campers, the score swells and becomes moody. During the more sentimental monologues looking for sympathy and compassion from its audience, the instrumental track starts to whine.
Nolan, who is always a winner in every role I've seen him in since writing for Film Army, is treating his menacing role seriously and trying to deliver skin crawling creepiness. But it's tough for his performance to soar when he's constantly being drowned out by the intrusive musical accompaniment.
Intrusive matters are a big problem in Silent Retreat, which then drag the film down and turn it belly up. These are included in the holey script, penned by Corey Brown, that misses prime opportunities to play with themes of isolation and losing one's self in silence.
Instead of being something psychological and being a true character study to these sheltered young women, Silent Retreat would rather be a straight forward, by-the-numbers horror/thriller. However, because the emotional overtones are being crashed over our heads, the tension is ultimately ineffective. An appearance of an underdeveloped forest-dwelling Gollum-esque creature almost feels like more of an apology than anything towards those viewers who were expecting something scary.
The film, however, started to pick away at my patience when Lee and Brown started to push a feminist-heavy approach on its material. The female cast – who do a fair enough job portraying their specific troublemaker – have an unspoken sisterhood as Silent Retreat rolls along, but it's our lead Janey (played by Chelsea Jenish) who has a particular assertive spin towards males.
Tricia Lee explained in a post screening Q&A that this was a film about a hushed woman finding her voice and speaking up towards those hurtful men. I'm never one to turn down the concept of a dismissive lead finding their voice, but things get murky in the message when Janey strives for violent revenge.
A good premise is turned into a routine drab debut that is more noisy with its rah-rah moralities and whatever is blaring through the speakers at that very moment. How about we take Janey away from the meditation retreat and fill her spot with Tricia Lee's movie?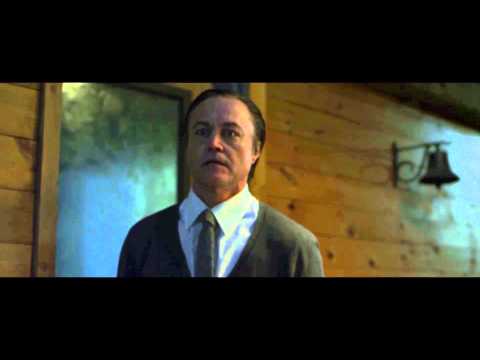 **********
For more information on Toronto After Dark, the other films that will be screening, and purchasing tickets, click here!
Related Articles:
Read my anticipated Toronto After Dark picks here!
Read my reviews of KIN and We Are What We Are here!
Read my reviews of The Last Video Store and Big Ass Spider! here!
Do You Tweet? Follow These Tweeple:
Toronto After Dark: @TADFilmFest
Film Army: @FilmArmy
Addison Wylie: @AddisonWylie