As new semesters begin, Academy Award nominee Scott Hamilton Kennedy's documentary Fame High hits TIFF's Next Wave festival circuit. The timing couldn't be better.
Fame High documents a year in the life of students attending LACHSA (Los Angeles County High School for the Arts). We follow students who take dance, theatre, and various music classes. Kennedy has picked the right amount of students and has also gotten lucky with their charisma on screen.
We've all seen movies that feature a high-end school for the arts and the drama and competition amongst the students that unfolds. The teachers are tough as well, and treat each student with copious amounts of discipline.
As Fame High begins and moviegoers get acquainted with the prestigious arts school, there is a slight troubling vibe. The kids couldn't be happier but the teachers are very aware of how special LACHSA is. So we get a lot of introductory scenes that feature a lot of stern teachers. Obviously, the film is trying to get a rise out of moviegoers while also reminding us how high-end the school is.
You sit back and try to swallow the self-awareness among the staff. It never really sits well and a lot of audience eye-rolls are bound to ensue. As a theatre patron, you want these teachers to take a breath and relax a tad.
The film then steps away from the boasting rigmarole and focuses on the kids, which is a good move on Kennedy's part. It breaks the tension and allows audiences to get to know Fame High's subjects.
It's refreshing to be spending time with students in a film who aren't moody, brooding, or getting stirred up in social politics. We see our main teens – as well as the other students – laugh, talk shop about their desired profession with hope and joy, and watch mesmerized at other performances from classmates.
And the film hasn't been cut in a way that feel like these fun times are manufactured. Each moment is filled with so much genuine emotion. Everything feels real.
Whenever Fame High did something correct, I thought about how other high school docs dropped the ball and how those directors could learn a thing or two from Scott Hamilton Kennedy. For instance, I wanted to give the mopey teens a shake in Nanette Burstein's 2008 slice-of-life American Teen. It reeked of reality television elements and it didn't give us an authentic look at these troubled featured students. Everyone was soaking in the drama, which led the film to becoming a tiresome slog to sit through. Whereas in Fame High, I wanted to give each student in a big hug and congratulate them on having their spirits high.
That's not to say the film doesn't have moments of self-doubt and parent-child head-butting. Our leads are familiar with the relentless nature of show business. The stress of constantly being busy – and at that, the stress of just "hanging around" waiting to be called on – gives each teen something to think about. Especially theatre-savvy Ruby McCollister.
We also see the inevitable overprotective parent scenario. Zak Astor is one of the many focused students taking part in musical classes, but his father keeps pushing him to practice. In response to finding out that Zak had only practiced piano 16 hours one week, Zak's Father labels it as "a bad week."
But here's just one of the many qualities that makes Fame High deserve a standing ovation. Kennedy realizes that Zak's Dad is overbearing, Zak's teachers realize this as well. But the film isn't rooting for Zak to break into Emilio Estevez's "You've got to be number 1. Win! Win! Win!" confession from The Breakfast Club. Fame High wants audiences to see both sides of the issue.
In an intimate interview, Zak tells us his opinion on his father, which is a good sign that Zak is a bright kid who knows how to handle his criticism. What's really interesting is that Kennedy wants to show how good of a team these two make. In this sweet-n-salty combo, Zak represents innocence while his Dad maintains his drive. It shows us that not all overprotective parents are out to constantly – and strictly – berate and force their children to maintain higher goals. Sometimes, some kids need that to get their crosshair more focused on what they want to strive for. And in regards to Zak's Dad, Zak can focus on who he doesn't want to grow up to become.
Fame High is a terrific documentary that finishes off on a pleasant note. The one element that was bothering my wife when we watched Kennedy's doc was the dated quality to the footage, the fashions, and the references. Convinced it was made recently, I couldn't pin down an answer for her.
As the film concludes, we realize that Kennedy was very patient and waited to see how the careers of these featured students amounted to. The results, that lead to the credit crawl, garner an A+ for the ability to impress and to quietly inspire.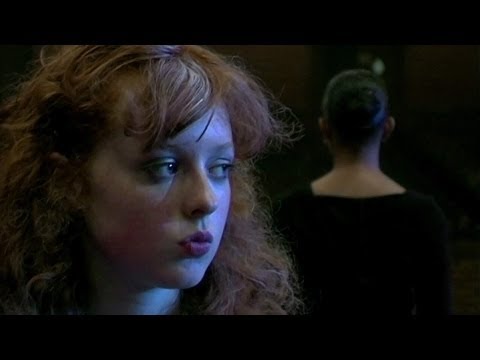 **********
Scott Hamilton Kennedy's Fame High will screen on Saturday, February 16 at 12 p.m. at the TIFF Bell Lightbox with Kennedy in attendance. This screening is apart of TIFF's Next Wave Film Festival, which runs from February 15 to 17.
Visit TIFF's official Next Wave Film Festival website here!
Visit TIFF's Fame High page here!
Visit the official Fame High website here and "like" the doc on Facebook!
Do You Tweet? Follow These Tweeple:
Fame High: @FameHighMovie
TIFF: @TIFF_NET
Film Army: @FilmArmy
Addison Wylie: @AddisonWylie