One of the most talked about documentaries at this year's film festival is Beauty Is Embarrassing, a film chronicling artist Wayne White's start in puppeteering and painting to his rise as a creative genius with a fully supportive cult following.
At first people may not immediately recognize White's name but they have undoubtedly seen his work. For instance, when I told some fellow movie goers and filmmakers about the documentary, they were drawing blanks. However, once I mentioned his puppet creations and his art direction on Pee Wee's Playhouse, Shining Time Station, and Beakman's World, they were instantly jealous that I got the chance to interview White and Neil Berkeley, the first-time director of this wonderful documentary. Our 15 minute audio interview is located a the bottom of this review.
White hasn't always dabbled in children's television though. He has won awards for his creations in Peter Gabriel's "Big Time" music video as well as his work in the music video for "Tonight, Tonight" by the Smashing Pumpkins.
The documentary starts with a present day look at White's life. When he isn't painting and performing live art shows, Wayne lives with his adoring and supportive wife (writer/cartoonist Mimi Pond) and has two children who show plenty of love and interest in art. The film then takes us back to the beginning and shows us how White has gotten to where he is now. We get lots of footage and pictures of the artist as a boy and creating unique work, a tour of White's time behind-the-scenes of the CBS cult classic Pee Wee's Playhouse and other ventures in television, and how his projects eventually built up to a whirlwind of stress and anxiety while he was trying to breathe in the wacky world of Hollywood.
Berkeley had lots of material to draw from. Countless pictures, White's vast resume, and oodles and oodles of stories from family and friends describing the eccentric artist's personality. So, as a director, the first red flag is how do you structure all this content and how much time do you spend on each subject?
It's a relief that Berkeley made all the right calls in regards to pacing and formatting this meaty story. By showing us White's current situation in Tennessee, audiences get a full understanding of his sense of humour and the work he enjoys. We also see the environment he loves to work in and how his payoffs affect others around him. It's a strong way to show how the community has grown to embrace White and how an artistic underdog can succeed despite doubters. In a very touching scene, we see White showcasing his art to his family, his first grade teacher, and to others within his town. It's marvellous to see White excel in a field he loves but it's even more rewarding to see other people realize it.
As we soar through White's life in school and on multiple sets, we connect with that feeling of not fitting in and then experiencing that sensation of finding individuals with that share our interests. It's why we really stick with White through the early academic days and root for him every step of the way. We're then rewarded and cheer when he finds acceptance in his post-secondary studies and transitions to his time at the Playhouse.

One would think that a whole documentary could be done based just on the highs and lows of Pee Wee's Playhouse (and judging by its following, there would be people who would line up in advance for that screening) but after watching the extended segment in Beauty is Embarrassing, fans realize that it may have been possible to create a full length feature but that content works better when focused on for a specific and shorter period of time. Berkeley and Editor Chris Bradley have taken this information and condensed it into an appropriate amount of time where it feels like that portion of White's life doesn't overshadow the rest of the film. It's handled perfectly and provides lots of insight into how difficult the first season of the show was, how the puppeteers found enjoyment off camera, and how most of the crew reacted to the infamous Paul Reubens incident that put the show in a negative light. However, the crew members that are interviewed have answers about how that incident affected the show that may surprise faithful viewers.
Beyond the interviews with White's co-workers on Pee Wee's Playhouse, we get lots of fun and informative interviews with other creative artists like composer Mark Mothersbaugh and Simpsons creator Matt Groening. All these interviews offer plenty of food for thought without shifting the focus from White.
When we see White finally peak, it may feel like we're seeing this major obstacle too late into the film but that would be critiquing how White's life played out. It's a note that's not meant to be a dig at the film but rather something viewers should keep in mind as their waiting for that climax we're used to seeing earlier in most films.
There's a giant head that is featured on the film's poster and is shown quite prominently in Beauty Is Embarrassing. It's an obtuse head with a goofy grin but looks like a fun loving, high on life, kind of guy. The head is also supposed to represent a hick-like arrogance and should reek of cheap cologne but let's take that away from this equation. Watching Berkeley's film will have you looking like that big head. A giant grin will be plastered on your face as you watch this mixed up extravaganza of quirky innocence and frustration. It's a film that everyone can identify with as we've all felt like White at some point in our lives. The humour is spot-on, the timing is just right, and Berkeley's directorial debut is a joyful piece of work that is sure to be one of the best documentaries I'll see this year.
As stated at the beginning, I got the honour of sitting down with both Berkeley and White to talk about Beauty Is Embarrassing. We also talked about the filmmaking process, what the children's show Yo Gabba Gabba does right and what other kiddie shows do wrong, and why youth shouldn't be pressured.
Audio clip: Adobe Flash Player (version 9 or above) is required to play this audio clip. Download the latest version here. You also need to have JavaScript enabled in your browser.
A big thanks to Neil Berkeley, Wayne White, GAT PR and Hot Docs for this amazing opportunity.
Trailer for Beauty Is Embarrassing: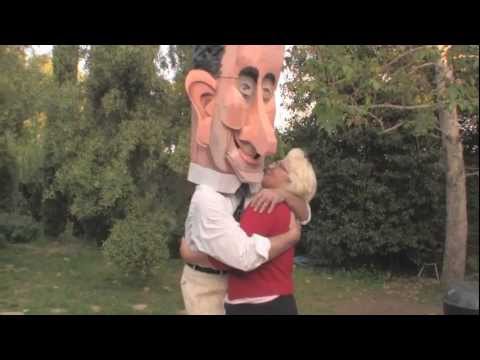 Showtimes:
Sunday, May 6th 3:30pm
@ The Bloor Hot Docs Cinema
Do You Tweet? Follow These Tweeple:
Beauty Is Embarrassing's Official Twitter: @WayneWhiteDoc
Wayne White: @SeeWayneWhite
Neil Berkeley: @mrbrkly
Hot Docs: @HotDocs
GAT PR: @GATPR
Sky Lewis (Interview Photographer/Audio Recorder and Editor): @SkyBaby5
Film Army: @FilmArmy
Addison Wylie: @AddisonWylie
*Don't forget to use the hashtag #BIEMovie and #HotDocs12*
Visit the official Beauty Is Embarrassing website here.
First Photo: (From Left to Right) Neil Berkeley, Myself, Wayne White
Second Photo: Myself wearing White's giant artwork