Hello, The Internet!
This month marks the first installment of something I've wanted to do here on Film Army pretty much since we started working together: detailed film breakdowns. We've always made video content and talked about our process, but I want to take that a step further by providing information that other filmmakers can analyze and learn from for their future projects. Also, after filming A Full Rotation, I've become even more passionate about prompting people who want to create to stop making excuses and just to create. So this series will be targeted to get filmmakers with ideas to get out of their heads and onto set.
This month, we'll be looking at a short film we shot called Survivors.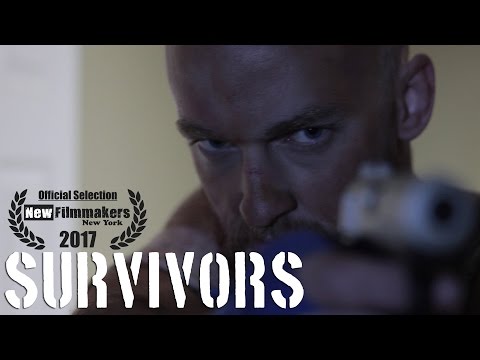 ---
FILM BREAKDOWN
Format: Short film
Run time: 15 minutes
Media: Digital video
Total budget: $155.02
Total shoot time: 1 day (9 hours)
Budget breakdown:
Wardrobe – Shirt, tank top, bandages/gauze: $40.63
Make-up – Dirt, blood, make-up applicators: $37.61
Props – Beans, maps, fake blood ingredients: $21.35
Craft – On set snacks, dinner (pizza): $55.43
Gear list:
Camera: Canon T3i with Canon EF 50mm f1.8 and Canon EFS 18-55mm
Audio: Rode NTG-2 and Tascam DR-60D
Lighting: Ikan 500 LED and a desk lamp
Summary:
The script for Survivors is actually quite simple. The bulk of the short is a seated dialogue between two characters. However, the challenge of the piece was setting the tone via visual storytelling. That meant investing more money in props, make-up and wardrobe, which is where the bulk of the money went for this short. Luckily, these are what I call investment purchases. While they do inflate the budget of this short, I now have them at my disposal for any future shoots I may do. Generally, every time I put together a shoot, I try to pick up at least one investment purchase. That way, as I shoot, I am amassing a larger array of options for gear, props, make-up, etc. As an indie producer, this helps make costs more manageable, while still opening up options for varied productions. So, while yes, I did spend $40 on make-up, that's $40 I won't have to spend on my next shoot.
We planned our day in such a manner that while we were the scenes with just Julian outside, Cydney, our make-up and art department superstar, was decorating (or in this case, trashing) our interior location and processing our second actor, Kevin, through make-up. That way, by the time Julian and I returned for the exterior shots, we were able to seamlessly continue shooting. Similarly, while we were shooting the final block in the living room, Cydney was packing up and cleaning the rest of the interior, which drastically cut down on our tear down at the end of the day.
The biggest challenge of the day was running with one light. Two of my lights were out of commission due to broken power cables and for some reason the store that carries the replacements was closed for a week when I went to order new ones, so we were running with limited lighting options. Unfortunately, it led to some really dark shots, particularly of Julian in the hallway, but a little tweaking in post made them manageable, though not ideal.
It should be noted that in our budget, no one working on the film was paid. We had a small crew that consisted of myself, Cydney and our boom op, Niall Spain and a cast of two, Julian and Kevin. Everyone was working on a volunteer basis. Whenever that's the case, I always try to make sure to have the one thing that keeps everyone happy: food. I buy an assortment of things, but I tend to load up on junk food; chips, crackers, donuts, cookies, etc. I used to buy fruit,  but it was never eaten, so I decided to refocus funds to where they'd be appreciated. The golden rule of indie filmmaking is if you can't pay them, feed them. We took an hour or so break before starting the big dialogue scene to order some pizza, but we worked through the gap by rehearsal and talking about the scene, so that when we finished our dinner, we could hit the ground running and start banging out the final shots.
All in all, the shoot went great with absolutely no major setbacks. Cydney, who was a first time make-up artist absolutely killed it with the special effects and set dressing. Niall, who was also a first time boom operator, was fantastic as well. Kevin and Julian showed up prepared and professional with lines in their pockets and questions and ideas for the scene and their characters.
The crowning achievement of this shoot, in my opinion, is that it just goes to show how little you need to start pumping our content. I'm very proud of this short, in fact, I think it's one of the best things I've not only produced for Film Army, but that I've ever produced. And it was made on a Sunday with five people and just barely over $100. If you've got an idea, there is always a way to put it on film with enough planning, passion and determination. Don't ever let time or money stop you from creating. That's the mantra of this series and I hope that over the next couple of months, I'll be able to show you how to take those ideas and with minimal resources, turn them into reality.
If you have any questions about how we put this shoot together or need advice putting your own shoot together, leave a comment or reach out on Twitter (@wakeupfast) or on our YouTube page.
That's it for this month, team. In case you're wondering, we'll be continuing the Film Army War storyline we started last month sporadically throughout the coming months in between film breakdowns, so keep your eyes peeled for that!
Cheers,
Dain