Dr. Dimensionpants is an awesome title for a show – how quickly can I get my doctorate in "dimensional physics" and who will teach me to put on my pants?! From the title alone I expect to see the following things:
Traveling to various dimensions and universes via this boys pants.
These other dimensions are trippy and have totally weird aliens.
Seeing the kid's underpants because evil villains will be stealing his dimensionpants.
Issues with time travel and messing up the space-time continuum.
Show Specs
Target demographic:
Length: 11-minute segments
Style: 2D animated
Production Companies:  DHX Media
Networks: Teletoon Canada
First aired: November 2014
Seasons: First in progress!
Created by: Brad Peyton (Cats & Dogs 2: Revenge of Kitty Galore, Journey 2: The Mysterious Island)
I think it's adorable that on Teletoon in Quebec, the title of show becomes Dr. Pantastique! Pants-Fantastic!
Dr. Dimensionpants first aired on November 6 of this year. Press release here. The intro/opening is below.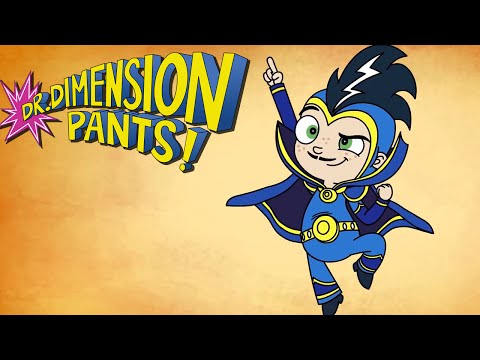 Dr. Dimensionpants/Kyle (voiced by Samuel Vincent)
This 12-year-old boy is playful, naïve and reckless. He also automatically develops a moustache when he puts on his dimensional pants. (Can you imagine how different Movember would be if these pants were a real thing?!)
Phillip (voiced by Richard Ian Cox)
This aggressive, controlling, and proud unicorn is Kyle's best friend, as well as his trainer and conscience. He is very pretty and feminine looking, which is why it's all the more hilarious when he gets angry with Kyle for being negligent. Phillip helps Kyle hone in his dimensional powers. I love that this beautiful and dainty looking unicorn needs to be taken seriously.
His pants power up sequence is pretty cool and reminds me of a cross between Power Puff Girls and Archer.
Once the dimensionpants are on, Kyle can create portals and jump between them. His belt buckle can also stretch out to assist him like a Swiss army knife – even if it's just giving him a sandwich.
The way this show is set up, whatever the conflict is, Kyle will be able to solve it. Unlimited dimensions equal unlimited problems with unlimited solutions.
In the episode "BFF Cortex," a villain named The Cortex tries to get on Dr. Dimensionalpants' good side by making fun of Phillip. But against Phillip's warning, Kyle goes ahead and befriends someone with an even more evil looking moustache. This episode is highly entertaining. You can watch it below.
Kyle always manages to somehow upset from another dimension or somehow makes his dimensionpants susceptible to being stolen. This show is set up so that anything can happen from anywhere.  With such an open-ended premise, there are no restrictions on the plot at all!
This year, Teletoon has put out four originals including Dr. Dimensionpants, Packages from Planet X, The Day My Butt Went Psycho! and Chop Chop Ninja. What a year for Teletoon!
You can catch Dr. Dimensionpants on Teletoon's Can't Miss Thursdays block and you can catch me in the New Year!
Happy Hannukah to my fellow Jews!